Not only is Brunswick Surgery Center the first outpatient surgery center dedicated to advanced orthopedics in our region, its excellence holds up on a national scale.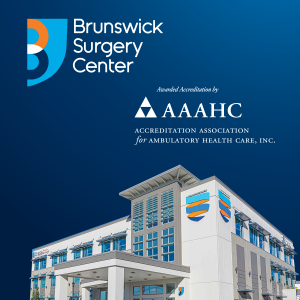 In December, just months after opening its doors, Brunswick Surgery Center achieved the prestigious AAAHC Certificate of Accreditation from the Accreditation Association for Ambulatory Health Care, Inc. (AAAHC.) Achieving this recognition demonstrates Brunswick Surgery Center's commitment to providing safe, high quality services to its patients by meeting or exceeding rigorous, nationally recognized standards in a variety of categories.
Among the areas evaluated for accreditation are: patient rights, governance, administration, quality of care, clinical records and health information, infection prevention and control, facilities and environment, anesthesia services, and surgical and related services.
"This effectively places Brunswick Surgery Center among the elite outpatient facilities for care and safety in the nation," said Scott Hannum, MD, Medical Director at Brunswick Surgery Center. "We are extremely proud of our staff for achieving this national recognition, and more importantly, our patients can rest assured that our quality of care holds up to the same standards of any other accredited facility anywhere."
Accreditation is an external, independent review of a health care delivery organization's policies, procedures, processes and outcomes. It reassures the public, as well as insurers, governmental agencies and other medical professionals, of the quality and safety of the care.
Once a facility has passed an onsite survey, it also commits to participating in ongoing education, self-evaluation and peer review by AAAHC expert surveyors made up of physicians, nurses and administrators who are actively involved in ambulatory care. The intent is that an accredited facility will adopt the policies and procedures as everyday practices. To ensure the high standard is maintained, AAAHC surveyors conduct a thorough, onsite evaluation of the organization at least once every three years.
"The initiative is called 1095 Strong after that period of time between accreditations," explained Anna Weaver, Outpatient Surgery Center Administrator for Brunswick Surgery Center. "During those 1,095 days, the AAAHC helps ambulatory leaders develop everyday habits to provide the utmost quality care to our patients, embodying the spirit of 1095 Strong, quality every day."
Setting the bar very high and pledging to meet it daily—that's a reassuring level of orthopedic outpatient surgery care for our region.
Congratulations to the Brunswick Surgery Center staff for their hard work and continued dedication!