Quick Links

ROSA® Robotic Knee System & Mako SmartRobotics™
With Two Revolutionary Systems, Brunswick Surgery Center Offers The Most Comprehensive Outpatient Robotics Program In The Southeast
At Brunswick Surgery Center, our goal is to constantly elevate the current standard of care and to enhance our patients' desired outcomes. That's why our team of joint replacement surgeons has invested in two industry-leading robotic systems: the ROSA® Knee System and the Mako SmartRobotics™ system. These systems provide a consistent roadmap to more reproducible and desired outcomes. Both systems can be used for total knee replacements now, and for partial knee and total hip replacements in the near future.
Schedule a Consultation
What are the patient benefits of robotic knee replacement?
In clinical studies comparing the new technology to manual techniques, robotic systems have demonstrated the potential for patients to experience:
less pain
decreased need for opiate analgesics
quicker recovery due to less cutting
decreased need for physical therapy
improved knee flexion
improved protection for soft tissue and healthy bone
unique, personalized approach
quick return to desired quality of life
Additionally, despite the highly advanced technology and equipment, and the exceptional level of surgical experience and expertise, outpatient orthopedic and spine surgery is usually less expensive than the same surgeries performed in an inpatient hospital setting.
Listen to a firsthand account from a recipient of a Mako total knee replacement:
How does robotic surgery work?
The systems combine the surgeon's expertise and experience with computer-generated, real-time data during the surgery, allowing for better precision. With the intraoperative robot, the surgeon can precisely balance and align the joint replacement specific to the patient. As a result, the joint replacement can achieve optimal motion and function.
Mako's 3D Virtual Model and CT-based Mapping Software technology allows the surgeon to perform a virtual surgery before the patient enters the operating suite. During the surgery, component position is optimized and validated to precisely guide the robotic-assisted arm to execute the patient's specific plan.
Watch an overview of the Mako SmartRobotics total knee replacement procedure:
The ROSA® Knee System brings together robotic technology with industry-leading knee implants to help surgeons personalize surgical procedures for their patients. The ROSA aids surgeons with the intraoperative smart assistant to render precise bone resections and the ability to balance the ligament and construct the ideal joint replacement.
Learn more about the ROSA Robotics System
See how the ROSA Robotic Knee System works:
Is Brunswick Surgery Center unique in offering robotic orthopedic surgery?
Typically, robotic-assisted technology exists in hospital-based programs and in larger academic centers or major hospital networks. The nationally accredited Brunswick Surgery Center gives residents of southeastern North Carolina a desirable option for this innovative technology on an outpatient basis closer to home and in a smaller, highly focused setting.
Who are the robotics-certified joint replacement experts at Brunswick Surgery Center?
All of these very experienced EmergeOrtho surgeons who operate at Brunswick Surgery Center are certified to perform robotic knee replacement using the Mako system, and several are also certified in one or both parts of the ROSA system.
Which robotic system is right for you?
There are slight differences between the two robotic systems. Your surgeon will discuss the benefits particular to each patient's needs during an office consultation.
Why choose Brunswick Surgery Center for robotic knee replacement?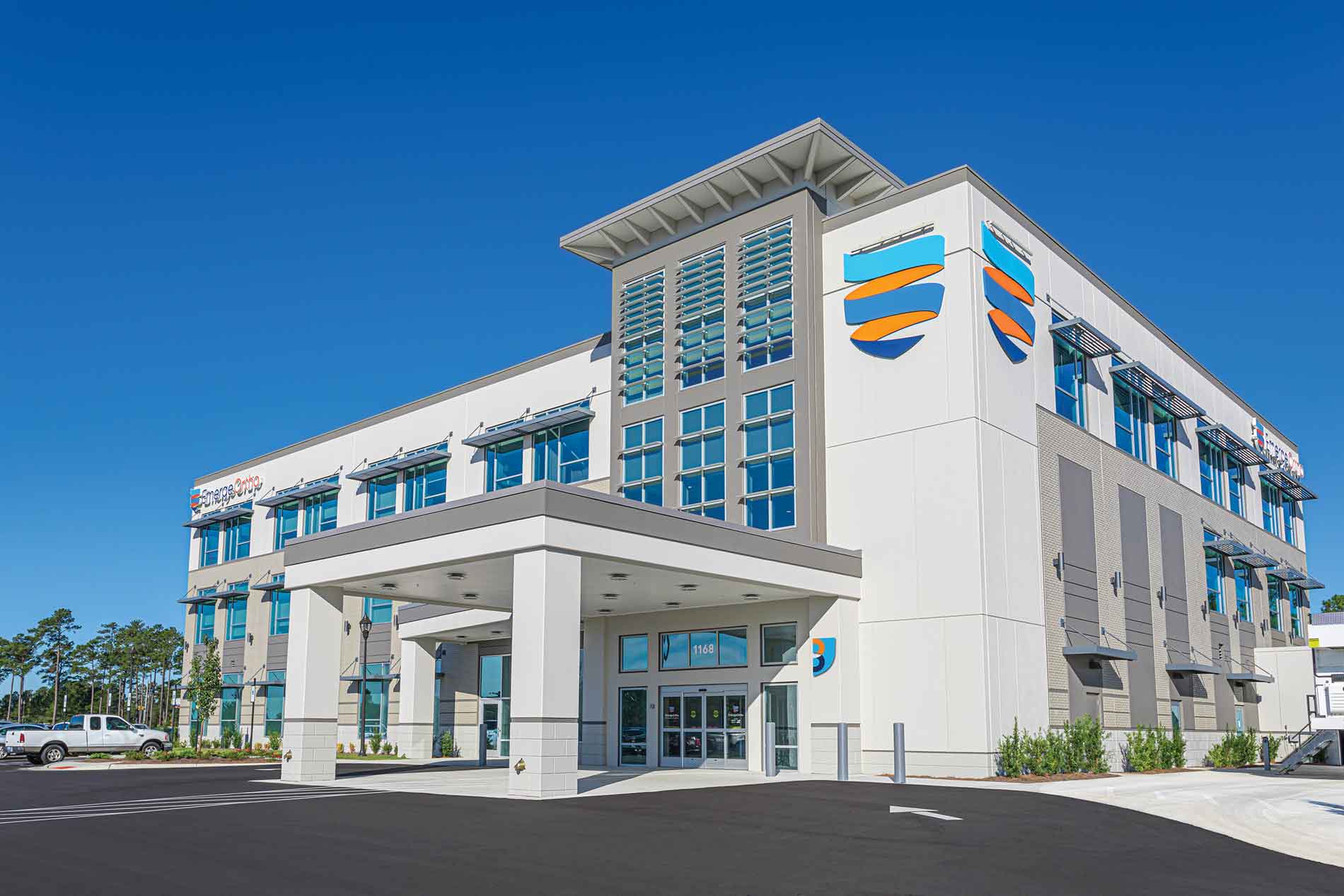 Prior to introducing the outpatient robotics program, the team of surgeons at Brunswick Surgery Center established and implemented a rapid recovery protocol using innovative strategies for patient selection, perioperative optimization and pain management, not only for joint arthroplasty but for most orthopedic surgery cases. This proactive approach is vital to our patients experiencing a high rate of successful procedures and rapid recoveries.
Brunswick Surgery Center's teams of exceptionally experienced surgeons, anesthesiologists, and staff are committed to continuing to invest in the most advanced technology for their surgery patients. The two new robotic systems add to the arsenal of orthopedic surgery tools already in place in your state-of-the-art outpatient surgery center.